I am more than happy to announce that we are officially about to start our first beta round.
This round is going to involve two of the core features of Reflective Data platform – Heamaps and Form Analytics. Many of you are probably familiar with the concepts of these tools and how to use them in your daily work. In case you aren't or if you just want to read how we approached these two, then you'll find details later in this article.
This article is going to give you a short overview of what Reflective Data is, our platform and about the beta round that is about to begin.
What is Reflective Data
First and foremost, we are people working really hard on helping companies become more data-driven in their everyday business decisions. To do so we are doing quite a few things already.
The agency
Our agency specializes in everything related to web analytics – setting up the tracking, auditing the data and helping companies to analyze the data that has been collected. Over the years, our expert analysts and developers have worked with thousands of businesses and eventually helped them to make more money.
Most of our clients have chosen Google Analytics as their main Analytics platform and therefore that is the one that we've worked with the most.
To get a more detailed overview of the services that we offer, take a look at our services page.
The blog
Yes, the same one that you are reading right now. One of the best ways to help people get familiar with the data-driven mindset is to share the knowledge, and we have chosen a blog for a form of doing so.
Currently, our greatest effort is going into getting the platform ready for the launch and therefore we cannot post as often as we would like to. We try to keep it around once a week. But we are going to be more active once the platform is live, I promise.
So, if you are interested in web analytics, subscribe to our blog today – you can find a link on the sidebar and at the bottom of this post.
The platform
While working with clients all over the world we've also come across with a number of different tools and platforms. Of course, analytics platforms such as Google Analytics cover the great part of the needs but there are cases when a more specialized tool is needed.
The features that we (and our clients) have found to be the most useful are Heatmaps, Form Analytics and On-Site Polls. These are also the three that are going to be in our platform once we launch it.
But as you know, developing a good software is not an easy task and it takes time – that's exactly why we are offering you a free heatmaps and form analytics to get familiar with our platform before the official launch.
Why join the beta round?
We need beta users to draw out all the bugs and mistakes that we have made during the development. We hope there are not much as we have already done hundreds of hours of internal testing.
Okay, so that is our benefit, but what would you get from being a tester? Here's what:
Free Heatmaps, Form Analytics and soon On-Site Polls
Lifetime savings on our tools and services
Help us to tailor the tool based on your needs
Sounds good, right?
Get your beta access ASAP by joining here!
You'll receive your access to free heatmaps and form analytics within 0-2 days
What's included?
Once you join our beta round, you will get access to two of our core features: Heatmaps and Form Analytics. On-Site Polls will be available in a few months!
Heatmaps
Most of you are probably familiar with what the heatmaps in web analytics are, but let us go into some more detail on how we approached solving the question.
Here's how a how a Reflective Data heatmaps results page looks like: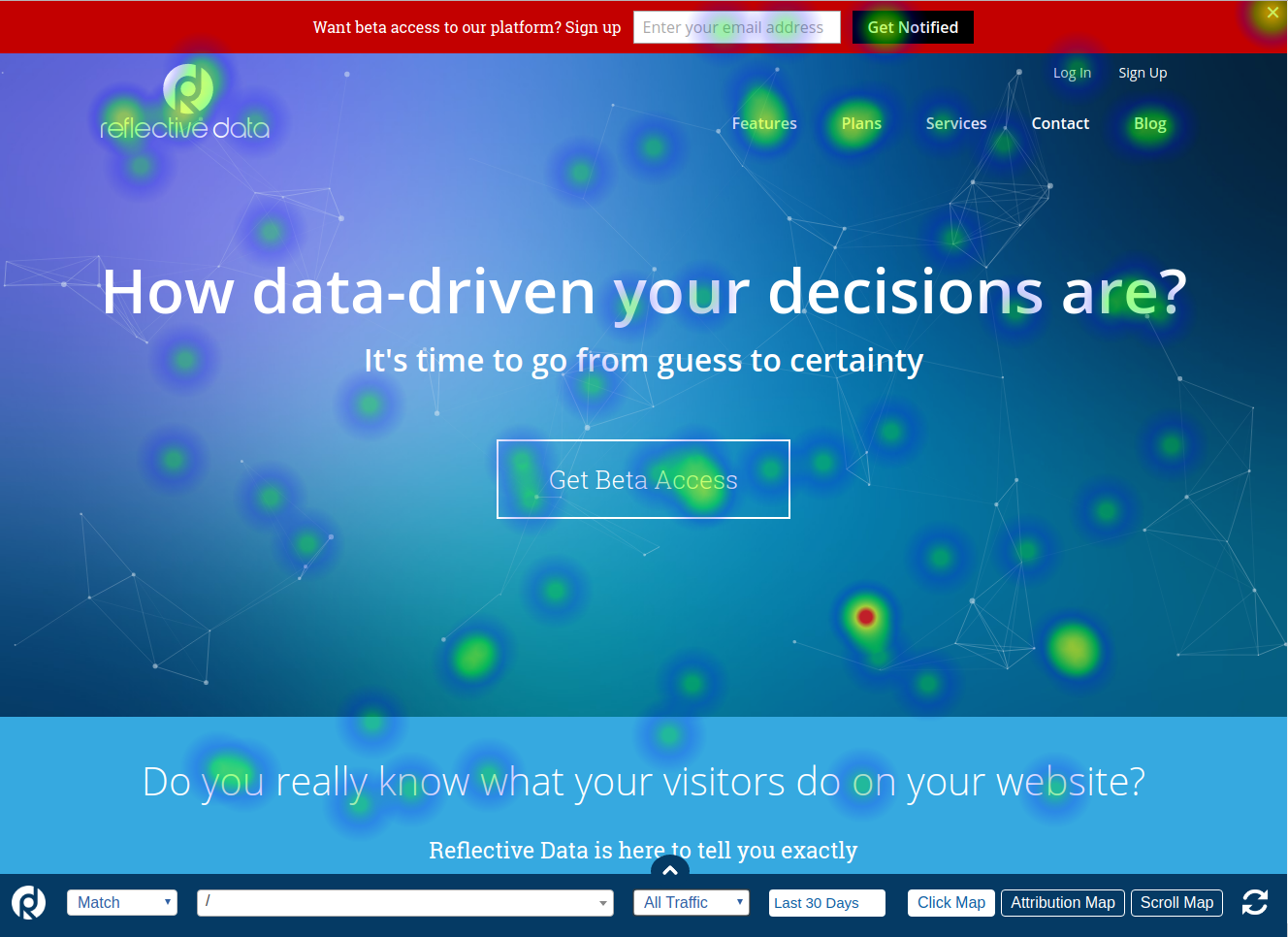 We load the results right on your actual website, no iframe, no generated screenshots. That will allow you to navigate wherever you want and see the exact page your visitors would see. You can even reload the heatmaps after elements on your page have changed, extremely useful for dynamic content and single page applications.
As you can see from the screenshot above, there are quite few things you can configure when taking a look at your heatmaps.
Match type
Choose between Match, Starts with, or Regex as your match type. This will allow you to take a look at the overall performance of a part of your website that is available on more than one page, such as header, footer, sidebar etc.
Match value
That is the second input field on the toolbar. Here you can define the rules for you matching type. Select from the list when you have chosen the Match, or write one on your own when Starts with or Regex was your choice.
Segment
Yes, you read that right. You can segment your heatmaps by a wide range of different rules and metrics. Defaults are All Traffic, Desktop, Mobile and Tablet but you can go much further, here are some just to give you an example:
(Country: US or Canada) and (Device: Desktop) and (Visitor type: New Visitor)
Date range

You can choose whatever date range you'd like to filter the results. You will figure the specific reasons you'd like to do so out yourself, right?
Heatmap type
You're right, these are the three buttons on the right reading Click Map, Attribution Map, and Scroll Map. And they do exactly what they say, change the type of heatmaps. Here's a quick overview of each:
Click Map
Click map is the one that you are seeing in the two screenshots above. It registers all clicks, on links, images or whatever you have on your website. Pretty straight-forward, right?
Attribution Map
This one is a bit different from click maps, it only shows the clicks on elements that are generally expected to click on (links, input fields etc.).
Attribution heatmaps will also show you the percentage of all the clicks that are done on that specific page (matching the segment and daterange). Here's how the results will look like: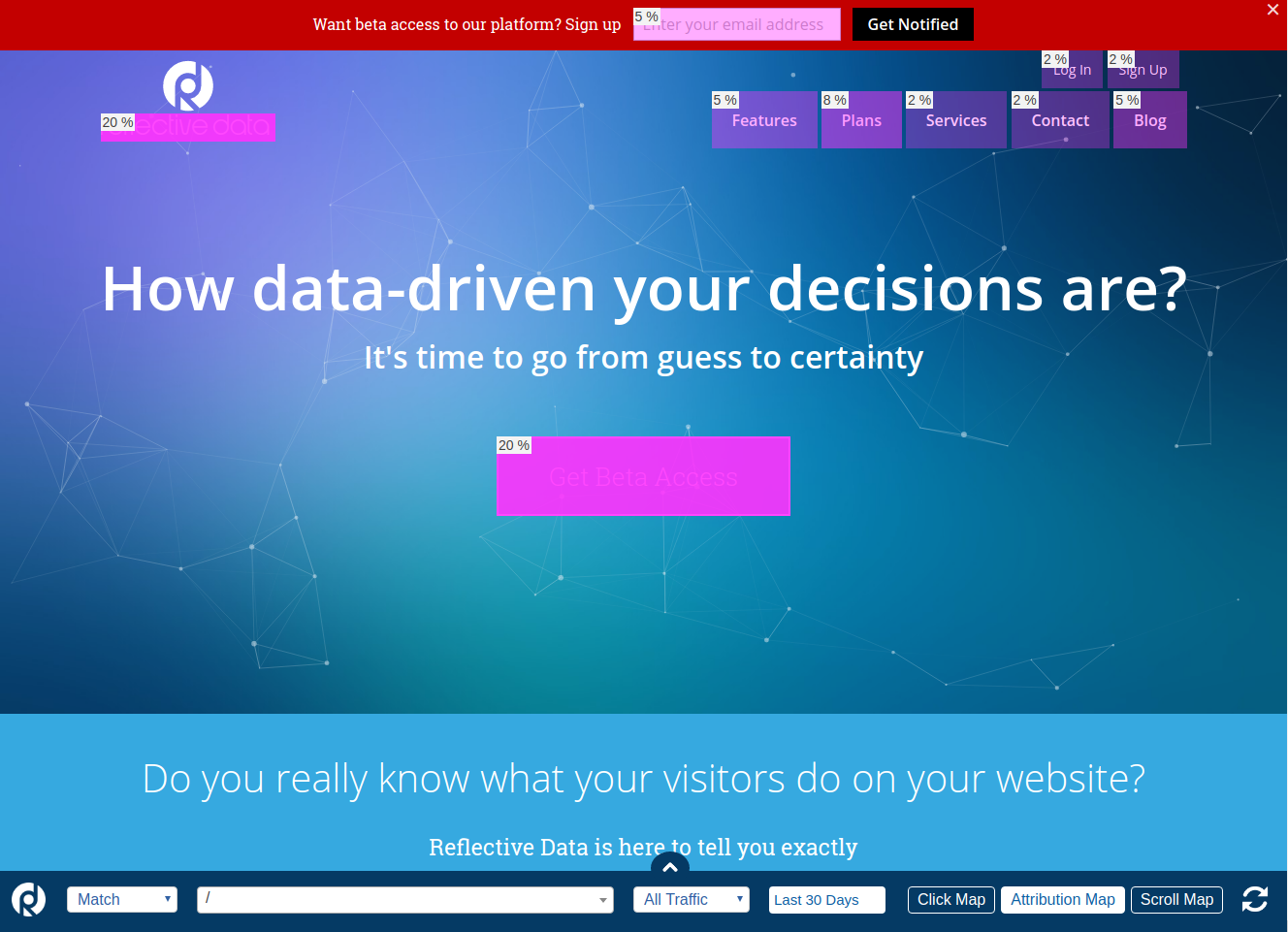 Scroll Maps
Scroll maps are here to show you how far on the page your visitors actually scroll. You will also see where the average fold is. Of course, all of the segments and date ranges work here, too. Here's an example of scroll maps results: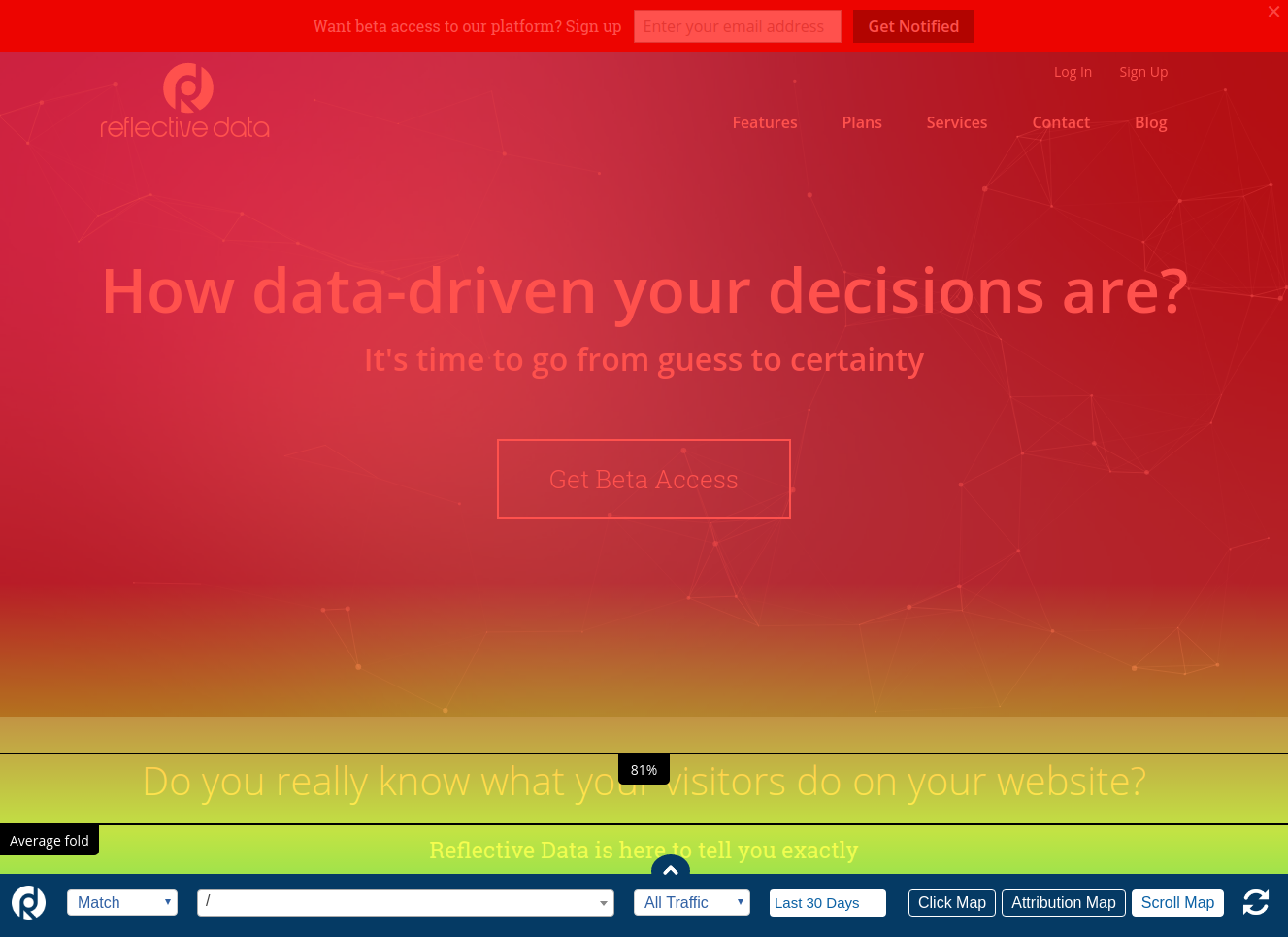 Form Analytics
Our Form Analytics feature is a very complete and complex mechanism for tracking how your visitors interact with your form, field by field.
Here is a very broad overview of one of the reports that Reflective Data Form Analytics feature provides: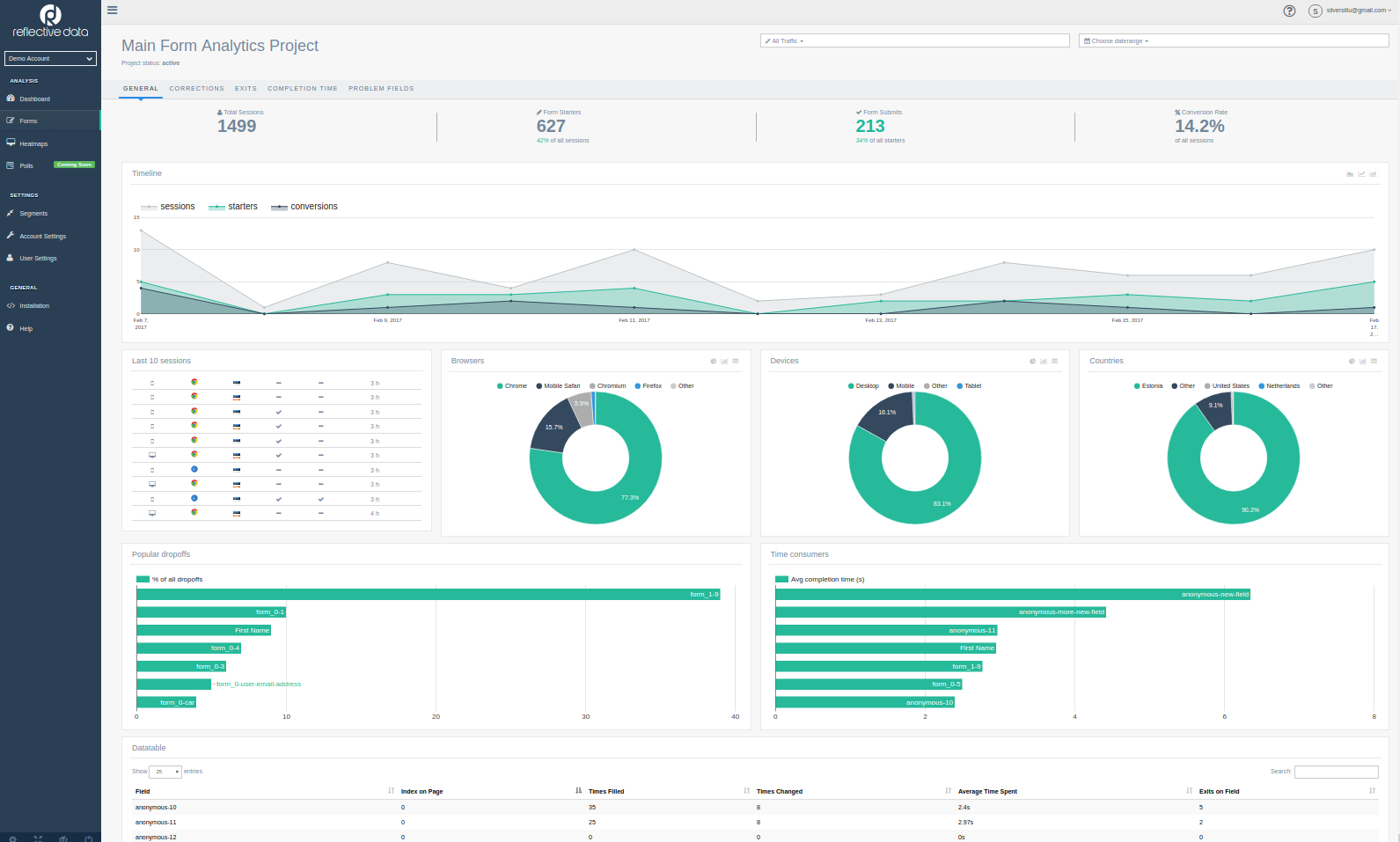 By allowing Reflective Data to track your forms, you will get a detailed overview of:
Form visitors
People who see your form but don't necessarily start filling it.
Form starters
Visitors who start filling your form but don't necessarily successfully submit it.
Form conversions
People who see your form, fill it and then successfully submit it.
Corrections
Shows you exactly how many times a value of a specific field has been edited, it even counts the times the value was deleted.
Exits
This report will help you figure out why people stop filling in your form, and which field is the last one they interact with.
Completions time
Completion time report will tell you how long it takes on average to fill in the form. It will also show you how long your visitors spend on each field.
Problematic fields
This one will tell you exactly which field need your action. Which ones take most of the time, are corrected or exited on the most.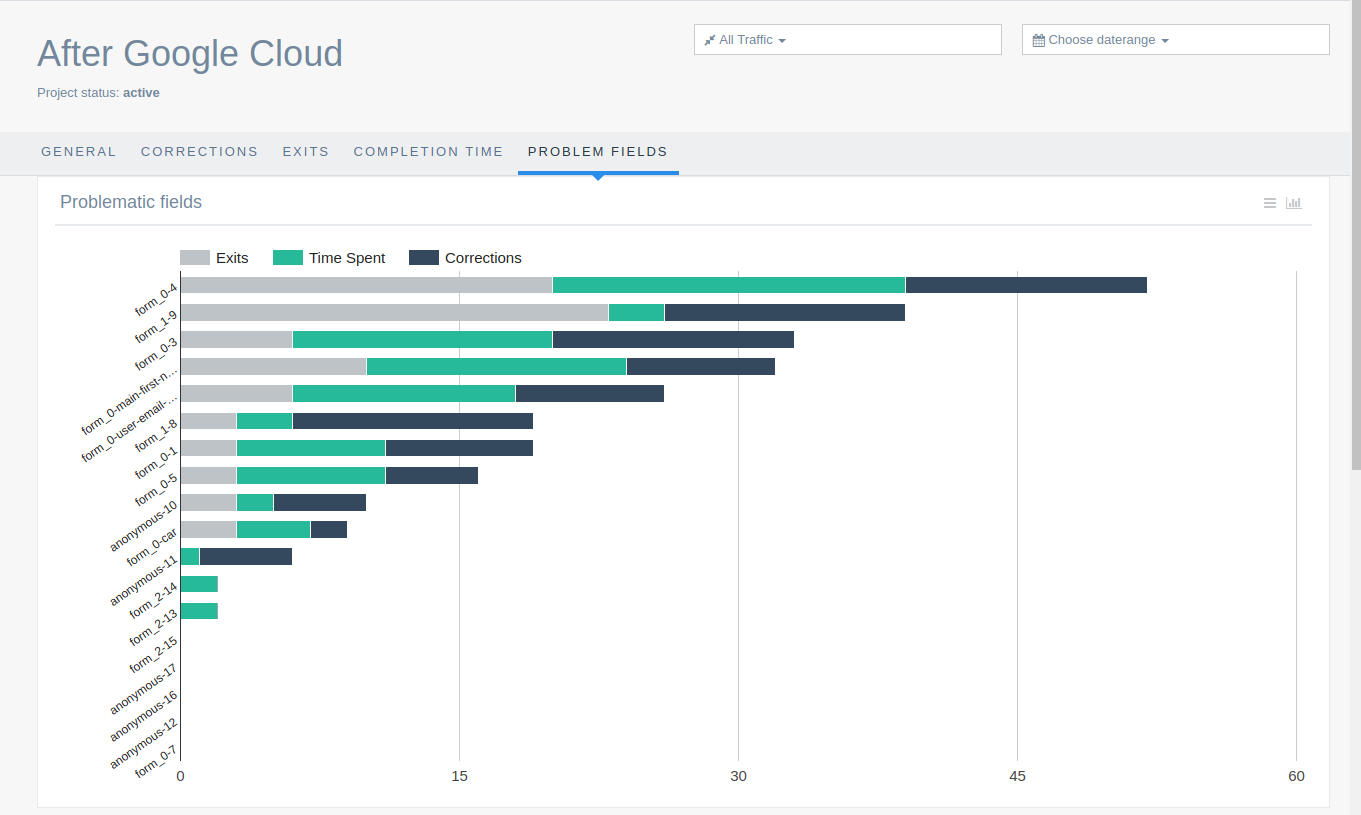 All of the Form Analytics reports are also using the same date range and segmentation engine as the Heatmaps, so you can see exactly the segment you care about the most. And figure out the ones that need your action!
---
I am quite sure that if you read this far, you are more than interested in getting your hands on our super great and useful features!
As mentioned above, during the beta you will get free heatmaps, form analytics and soon the on-site polls. What could be better? – After beta you will receive lifetime savings on all of our products, that's right!
And don't forget to subscribe to our blog and follow us on Twitter for more awesome stuff like this one here!