Our main goal at Reflective Data is to provide our users better, more useful data than they have today.
To do so, there are quite a many things that must be done before we go public:
Make sure data collection algorithms are working properly and accurately
Make sure collected data is safe and meets privacy requirements
Data display has to be easy to understand, yet provide all that's needed
Data collecting system has to be easy to set-up
Entire platform has to be adaptive enough to suit all kinds of websites
Continuously validate data
Where we are today
Reflective Data as a website user behavior analysis platform has been in development for around five months now. Here is a short overview of what we have done in those five very busy months.
Web application
Building a decent web application is not an easy task. We wanted to provide our users a fast, easy-to-use and nice-looking user experience once they are logged in (and while logging in).
It didn't take long to realize that building such platform needs us to invest into modern web technologies and into people who are experienced and willing to keep up with the latest trends.
While shopping for the right technology, we consulted with people building great platforms and business-oriented web applications for a living.
Here are some of the technologies we have decided to go with:
Backbone.js – There's a quite a good selection when looking for an MVC or MV* for a single page web application. We considered Angular, Knockout, Ember and Backbone. The reasons why we chose the latter were quite obvious – it was recommended by our friends building well-known CRM tool, we really liked the official documentation and information out there as well as the community in general. And the perhaps the most important one, we managed to find excellent developers familiar with the framework.
Gulp – Here, the main competition was between Grunt and Gulp and we decided to go with the second one mainly because it is just a better fit for our needs. There is also a great community behind Gulp and it seems to be growing. Most of our developers were already using Gulp in their everyday workflow.
Google Charts, ECharts and Morris – We take displaying data really seriously. No one would like to work with poorly presented data for a long time, yet poor presentation can be one the main time consumers. We think data has to be nice to look, easy to read and there has to be just the right amount of it – to be not too complicated while giving you all the insights you need.

Actually, there are many other amazing technologies that we are using to build Reflective Data platform and we have giving them all a shout-out in our plans, so stay tuned!
Our application is currently 70% ready for public use, missing the account-related features such as changing plans and payment intervals.
Form Analytics
We know that a form is one the most important part of any website that is aimed to do business online, doesn't matter whether you're in e-commerce, Saas or lead-gen – you probably have a form and you certainly want it filled.
Our goal here is to show you exactly how your visitors are using your form, field by field. It is critical to know which fields are causing the most friction and drop-offs – there's a good chance that you can improve something.
Reflective Data Form Analytics feature is 95% ready for public use!
Collecting Data is the core everything. We collect as much information as possible without violating any privacy requirements (no actual field values are being collected). We are not exposing our entire form data collection algorithm but it contains information about interactions, edits, deletes, time spent and drop-offs.
We are improving our data collection system all the time and many exciting features about be released. If you feel like there's a metric or feature that needs to get added just let us know in the comments below, or contact us directly.
Data presentation is what our users see and use every day (hopefully). Of course, the more time they spent digging the data using our tools, the better. But we are realists, and therefore we know that most of our users are really busy people looking for the most useful information they could get. This is why we are working so hard to make the time you spend on Reflective Data as effective and useful as possible!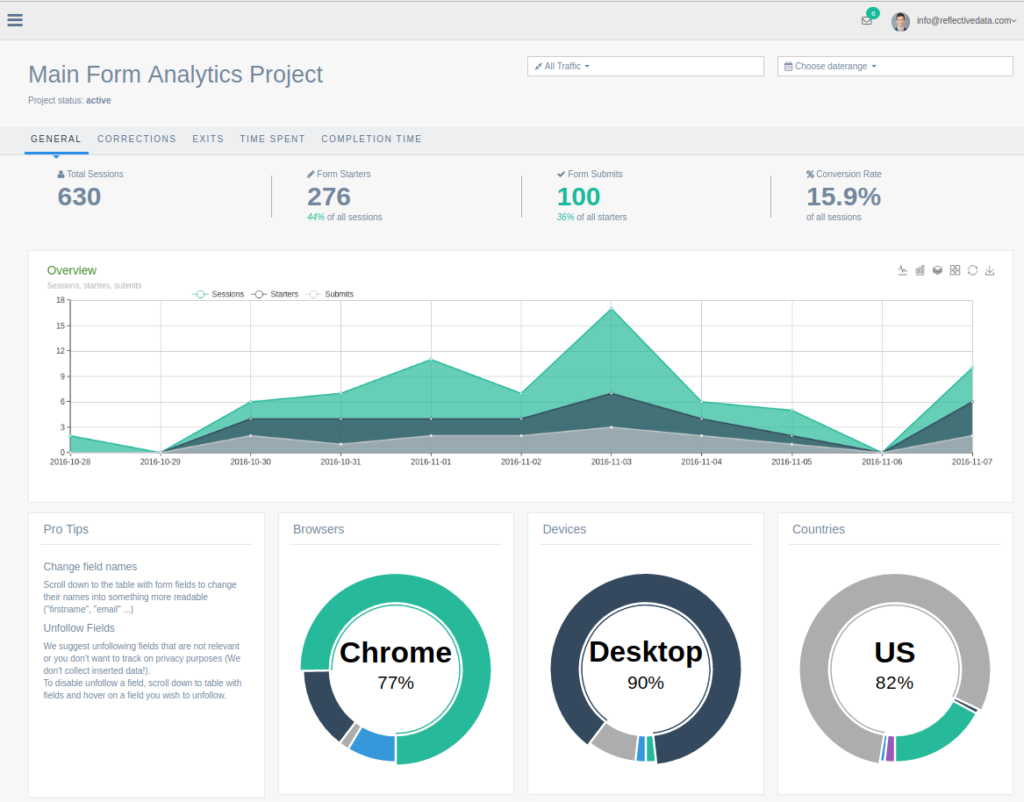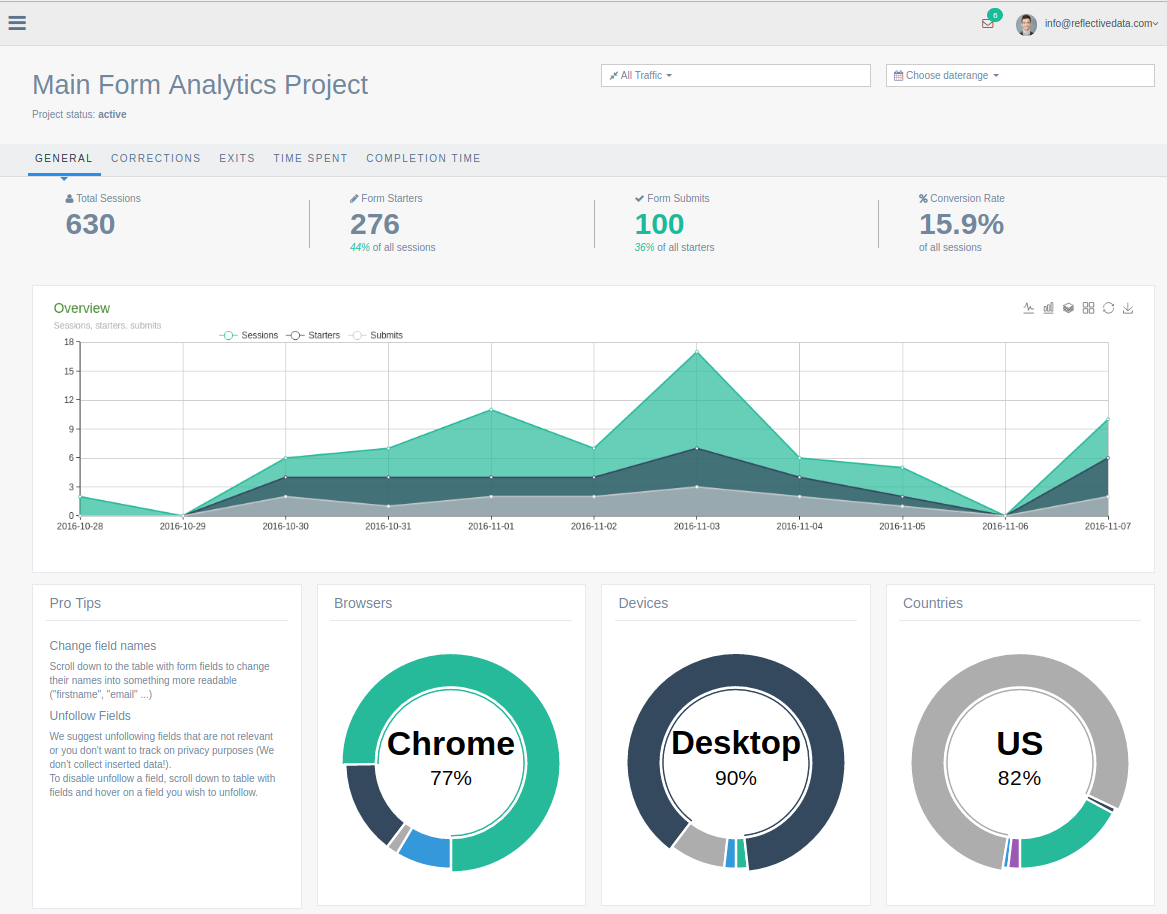 Again, if you feel like our data presentation could be improved, please let us know in the comments, and if you haven't tried us yet then sign up here!
Coming up next
As first beta testers are using Reflective Data Form Analytics features, we are constantly working on new ones to get into testing ASAP.
If you are interested in beta access, feel free to sign up here. Beta testers will receive great benefits, including life-time discounts on our tools and services!
Heatmaps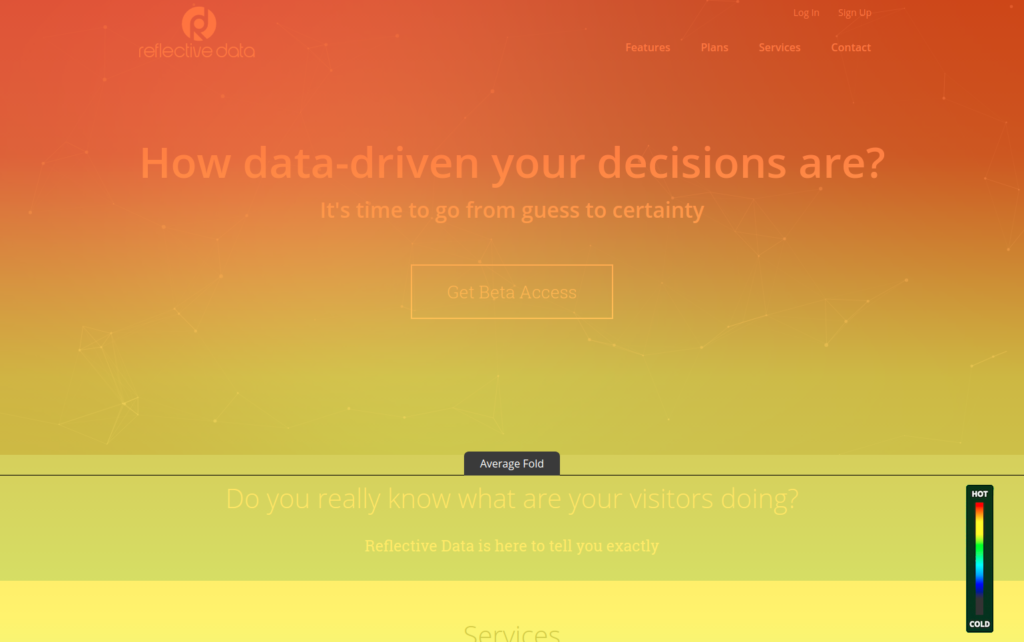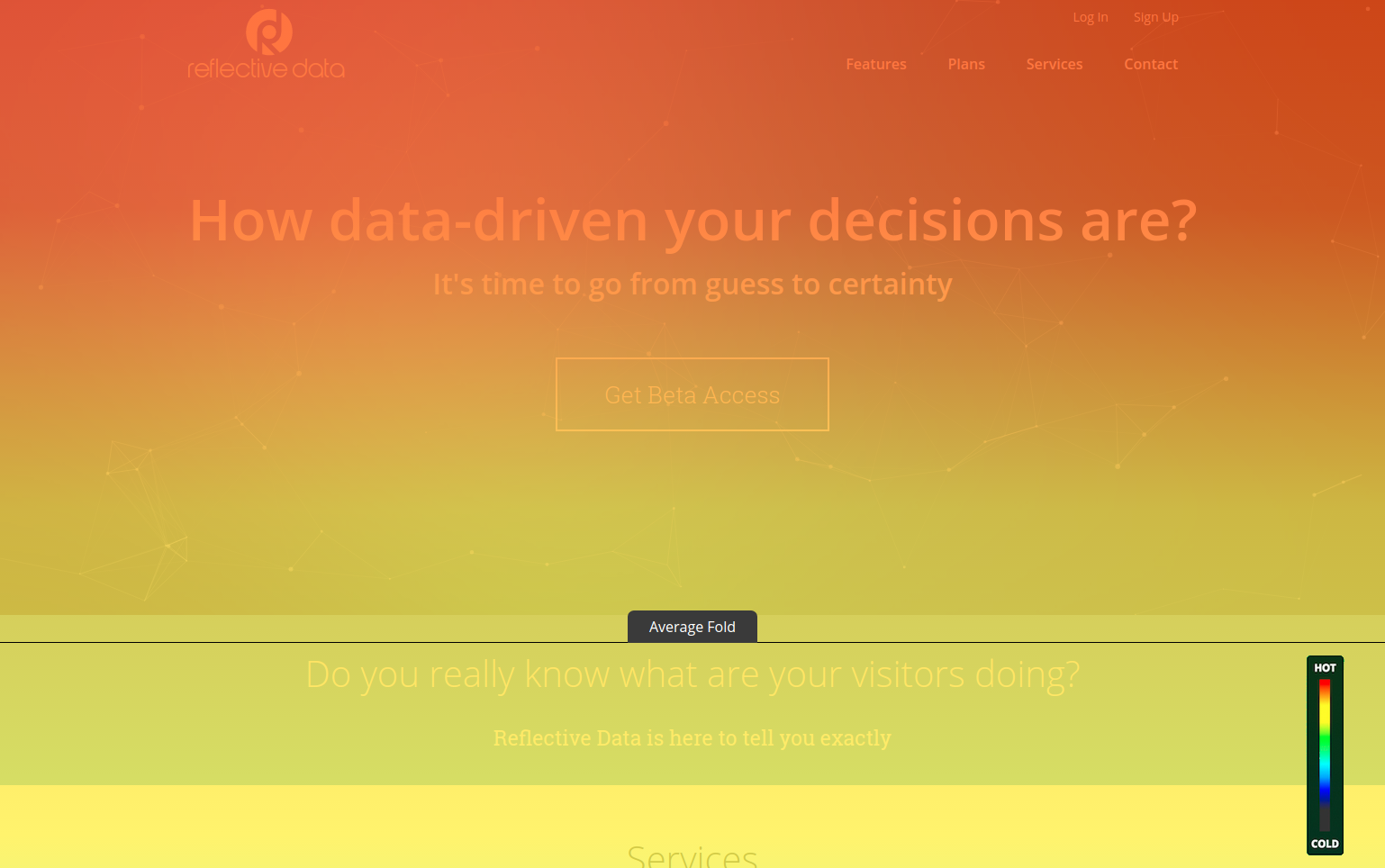 If you have worked with any user behavior analysis platform then you probably already know heatmaps. We aim to include all you are familiar with and add useful metrics and features on-the-go and based on our users' feedback.
Our heatmaps feature is currently in development and first beta testers should get their access in 1.5 – 2 months. Stay tuned!
Heatmaps is an umbrella term here for the following features: click maps, move maps and scroll maps.
On Site Polls
On Site Polls are the fastest way to find out what the visitors really want.
Collecting quantitative data is essential for optimizing your website but if you really want to give your clients an experience they are looking for, then our On Site Polls feature is the way to go.
For example: On a product page you could ask them: "What holds you back from adding X to Cart?"


Heatmaps beta access will be available in about 2 – 3 from now.
---
Wrap up
Everyone (who has access to a web form) is welcome to join our Form Analytics beta program here.
Beta testers will receive great benefits including free access to all of our tools before official public launch and lifetime savings on our tools and services!
If form analytics is not your thing, then sign up to get notified once other features are ready.