Around eight months ago, we signed up for Google Optimize invite list. We finally received our access around four months later and we have now been actively using it for three months.
So, what's our verdict? Is it going to replace other tools like Optimizely or VWO? In this article, we are going to tell you exactly what we think about Google Optimize.
Seamless integration with other Google products
If you (like we) are using Google Analytics as your main analytics platform and Google Tag Manager as your main tag manager then it's logical step to start using Google Optimize as your main testing platform?
Well, the integration is truly simple. The installation with Google Tag Manager is easy, here's how it's done. Next, just link Optimize with your Analytics property and view and that's it.
All your experiments will automatically show up in Google Analytics, take a look at Behavior -> Experiments.
For more advanced analysis we recommend creating segments or filters for each experiment and variant. That way you will be able to really see how your experiments are changing the way your website's visitors behave.
Here's how to create a new segment for a specific experiment and variant.

So, if it works so well with the tools that you are already using, doesn't it make sense to just start using it as your main A/B testing platform? Okay, let's take closer a look at Google Optimize's pluses and minuses.
Free version only
In this article, I am covering my experiences with the free version of Google Optimize, not the Optimize 360.
The bad
I am going to start with some of the aspects that I don't like so much about Google Optimize.
Just a little notice that besides Google Optimize, I am also actively using Optimizely and VWO, plus I have been experimenting with an open-source testing tool called Wasabi and even built an A/B testing solution based on Google Tag Manager.
Three experiment limit

Today, Google Optimize allows optimizers to run only three experiments at the same time. You can have more as a draft or ended but not running.
That can be a real issue for companies who are really into testing, especially for those who like to run separate tests for mobile and desktop.
For those just starting off with their A/B testing game, three experiments at once could be just enough!
Limited code length

That's right, with Google Optimize, your scripts are limited to 10240 characters.
This might not be an issue if you are just using the visual editor for some copy changes but if you are building a more advanced experiment this can become really annoying. Quite often I end up splitting my code into three or four sections.
No image upload functionality
There is no way to upload images into Optimize's servers. You will have to upload them to your own server or use third-party services.
While this might not be a big issue for some, I found it really bothering. All of the other testing tools that I use have this feature.
Preview mode is a pain in the…

As seasoned A/B testers know, your experiment just doesn't look right in the editor. To see the real picture, you have to use preview mode or URL-s.
When I work with VWO or Optimizely, I always have the editor open in one window and preview in another one. As I make changes in the editor I simply press "Save" and almost immediately preview my changes in the preview mode.
When it comes to Google Optimize, the preview doesn't get updated unless you click on "Save" and "Done", the latter exits the editor! After doing so you will need to re-activate the preview mode and then load the editor again to make some changes. And that's how it goes, over and over.
This is why setting up a more advanced experiment takes so much longer in Google Optimize when compared to some other testing tools.
The good
If the "bads" didn't scare you away, let's take a look at some of the reasons why I really like Google Optimize.
Works perfectly with other Google tools

As I already mentioned, if you are already using Google Analytics and Google Tag Manager, installing and using Google Optimize goes super smoothly.
While you can integrate Google Analytics with other testing tools, there will almost always be some issues with that. Most common is that the numbers just don't match up. Google Optimize's data is based on Google Analytics, so that won't be an issue.
Very nice visual editor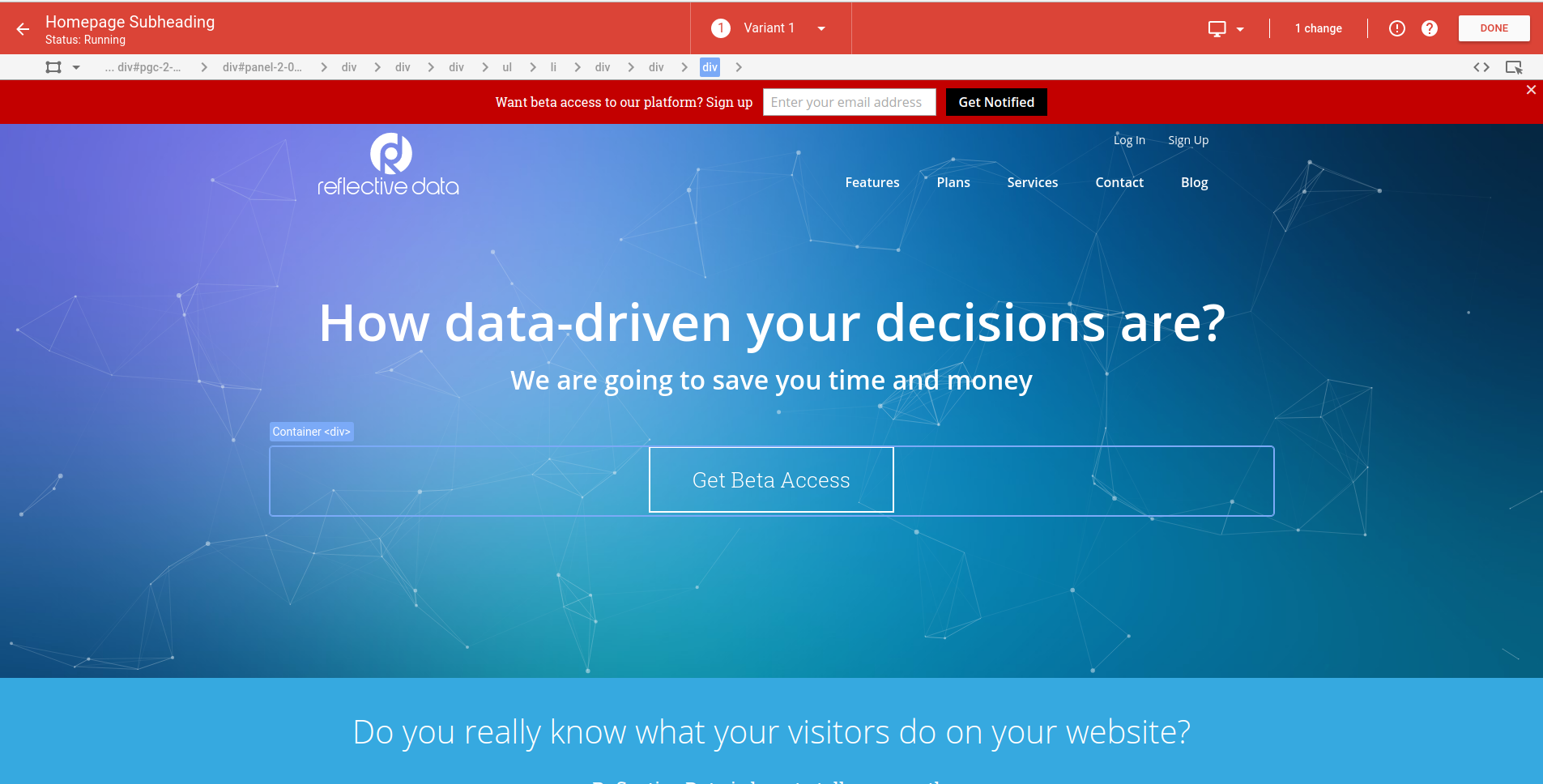 Whether you are a beginner in A/B testing, don't write any code or just most of the time run simpler A/B tests, you will really like the visual editor that comes with Optimize.
It is super easy to use, a simple copy or an image change will take a second. Really, it's that simple.
Growing community
As with other free tools, especially those from Google, the community tends to be huge and rather active. That means you can expect to see all sorts of tutorials and other cool stuff related to Google Optimize, online & for free.
While paid tools might (sometimes) have a good support system, I almost always prefer an active community on StackOverflow where nearly all of the issues have already been solved.
Right now, the community seems to be rather small but I am sure it will grow pretty fast.
Does everything it's paid competitors do
Doesn't matter if you come from Optimizely, VWO or some other similar testing tool, you will find all the features you loved about them in Google Optimize. Maybe in a bit different format, but most of them are there.
Of course, there are some slight differences, like missing image upload option etc. but for most of them, you can easily find a workaround.
IT'S FREE
Best things in life are free, so is Optimize.
Just sign up with your Google account, add the snippet on your website, link your Analytics property and start testing. It's that simple.
Other testing tools are very expensive, especially if you have a lot of traffic and your optimization process is not very effective (yet).
Conclusion
While it has its minuses, Google Optimize is almost as good as any other A/B testing tool and you will definitely like using it.
I really hope that some of the issues I listed in this article are going to be fixed in the nearest future. It's a rather new tool after all.
Three test limit will most probably stay to keep you considering upgrading to Optimize 360 but if testing is just something you do besides other stuff, three tests can easily be enough for you.
Are you new to A/B testing?
Go ahead, install Google Optimize on your website today and get to know what optimizing your website really means.
Are you already running a few tests every month?
No matter what tool you are using, give Optimize a try. It's free, you don't have anything to lose.
Are you an hard-core A/B tester?
Well, if you know for sure that three test limit is just not enough for you, you should probably wait before you cancel the tool you are currently happy with. But still, consider giving Optimize a try. Maybe you have another website where you run fewer tests or maybe you will like the platform so much that will consider the paid version.
Whatever your background is, my recommendation is to try new things (and tools). That's the whole point of testing and optimization, right?
Click here to get started with Google Optimize.
Have you already tried Google Optimize? Let us know what you think about it in the comments below.
If you liked the article, please subscribe to our newsletter to get posted on what's new in digital analytics!