Move data from Facebook Ads to BigQuery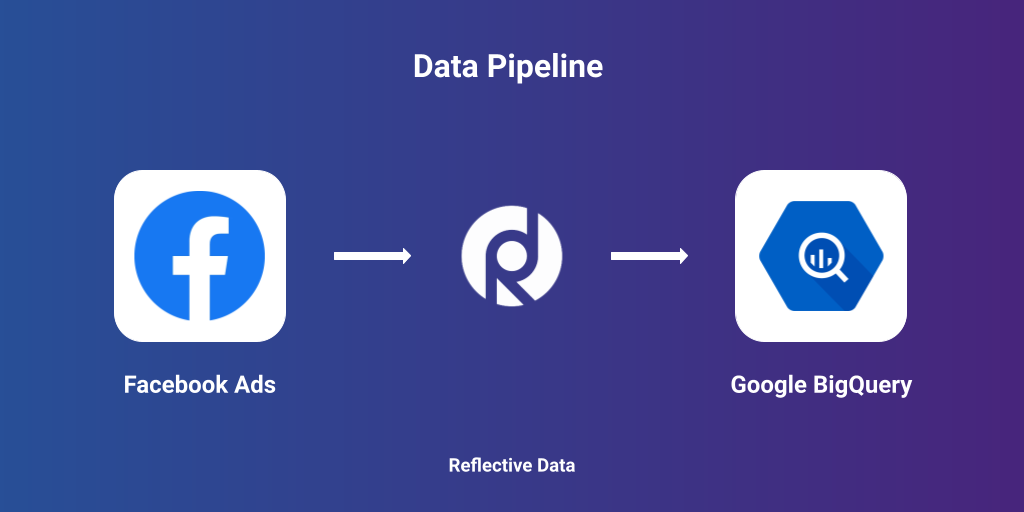 Using Reflective Data for BigQuery, you can easily import data from any marketing tool (including Facebook Ads) into BigQuery for more advanced and flexible reporting, analysis or dashboarding.
Access to raw hit-level data
You own and control the data
Premium support and custom development
FREE CONSULTATION
How does the BigQuery transfer for Facebook Ads work?
1. Schema and frequency
The first step in confuring a data transfer from Facebook Ads to BigQuery is to figure out what data is required, in what format and how often. This depends on the business requirements and specific use cases. Data experts at Reflective Data can help you get this sorted.
2. Pipeline setup
To enable data transfer from Facebook Ads to BigQuery, we'll setup a data pipeline based on your requirements. All of our pipelines are secure and built to handle terabytes of data.
Powered by

3. Monitoring and support
Besides making sure your data from Facebook Ads and other tools is continuously transferred to BigQuery, we can help you with things like custom reporting, building dashboards, and other data-related services.
Need Facebook Ads data in a data warehouse other than BigQuery?
Besides moving your data from Facebook Ads to Google BigQuery, we can set up a pipeline to trasfer data to Redshift, Snowflake, S3 or most other data storage systems.

Why choose our data transfer and pipeline services?
1. Flexibility
Only need a subset of data sent to BigQuery? Need your data in real-time? Need your data encrypted or remove PII? – Whatever customization you require, we can offer.
2. Scalability and reliability
We configure and start a new pipeline for each client, big or small. This means that even if there is an issue with one pipeline, all others will stay functional. Our infrastructure is built 100% on Google Cloud and with maximum scalability in mind.
3. Access to raw data
We believe that every business and every data analyst should have the freedom to define their own rules for data aggregations like defining a session, calculating churn etc. This is why we work hard on making sure you always get access to the underlying raw hit-level data from tools like Facebook Ads.
4. Preimium support
Besides helping build and maintain the data pipeline, we are there for you when you need assistance with other data-related tasks. Be it a custom attribution model, machine learning or Facebook Ads integration.
Get started with data transfer from Facebook Ads to BigQuery.
Get a free consultation with one of our top data engineers to discuss and find the best solution for your business.
FREE CONSULTATION
About Facebook Ads
Facebook Ads is a popular digital advertising platform developed by Facebook, where advertisers pay to boost their Facebook or Instagram posts, display advertisements, service offerings, product listings, and video content within the Facebook ad network to web and mobile users.
The amount of data Facebook has about its users allows Facebook Ads to provide one of the most complex systems for targeting the right audience based on their interests, behavior, demographics data, and more.
With Reflective Data, you can easily pull raw data about campaigns, cost, impressions, etc. from Facebook Ads into BigQuery for more flexible analysis work.
About Google BigQuery
Google BigQuery is a popular data warehouse solution that provides very fast SQL-like queries of extremely large datasets. The speed and efficiency of queries are achieved by the use of Google's vast infrastructure and proprietary technology, such as the Dremel query engine.
BigQuery has a native connector with most BI and data visualization tools making it easy to explore, analyze and report on data stored in BigQuery.
Refelctive Data can help you set up a pipeline that sends data from Facebook Ads and other sources into BigQuery for more advanced analysis.
Pre-built integrations to 100+ data sources
Besides transferring data from Facebook Ads to BigQuery, Reflective Data can help you pull data from almost any tool that has an API and send it to any major data storage solution available.
It's time to break silos and take full control of your data.
Most marketing tools keep you data in silos, show you aggregated metrics and keep you from doing more advanced analysis.
With all your data available in BigQuery, you are in charge. Define your own rules, join with any other data source, build your own reporting and visualization solutions.
FREE CONSULTATION
Pull raw data from Facebook Ads to BigQuery or any other data warehouse.