Enterprise-grade data pipeline as a service
We help you plan, build, run and manage an end-to-end data pipeline to feed your business with the insights it needs.
End-to-end data pipelines

You own and control the data

Fast, secure and flexible 
What is an end-to-end data pipeline?
Events → Enrichment → Process → Manage & Monitor → Storage → Report & Visualize
An end-to-end data pipeline is a secure and reliable mechanism that is responsible for feeding your business with valuable data that can be used for reporting, analysis, machine learning or any other activity that requires accurate data about your business.
Our enterprise-grade, fully customizable data pipelines are divided into six logical steps. Let's take a closer look at each one of them.
Events
There are four main categories of sources that generate an ongoing flow of events.
Website users

Click stream
Google Analytics parallel tracking
Form analytics

Server events
Feedback tool (included)
3rd parties

Testing tools
Personalization tools
Email providers
Call tracking
Enrichment
To give more context to the raw event-level data, our systems are pulling data from various sources, including:
CRM & CMS
Google Analytics
3rd party APIs
For sources that don't allow real-time access, we are using periodic batch load processes.
Process
Processing makes sure your data is secure, reliable, accurate and free from duplicates. To securely process your data, we are using the following tools from Google Cloud:
Manage & Monitor
To make sure everything is working as expected and to alert you if something is not, we are offering you a set of tools built in-house and from Google Cloud. Such as Stackdriver Monitoring.
Our goal is to provide you with the most accurate data with the least amount of latency.
Storage
We've built the data pipeline so that it can send and store data in almost any database, data lake or data warehouse available. Here's our standard recommendation.
Digital Analytics Platforms
Long-term storage
We make sure that your data stays safe and meets all the security requirements while giving your the full ownership and control over your data.
Report & Visualize
Collecting data is pointless if it's never being used to benefit your business. We think about the value your data has to provide in the earliest phase of planning and building the data pipeline. Our team works closely with yours in order to figure out the KPIs, reports and dashboards that are needed for your companies growth.
Tools we are using for reporting, analysis and visualization include: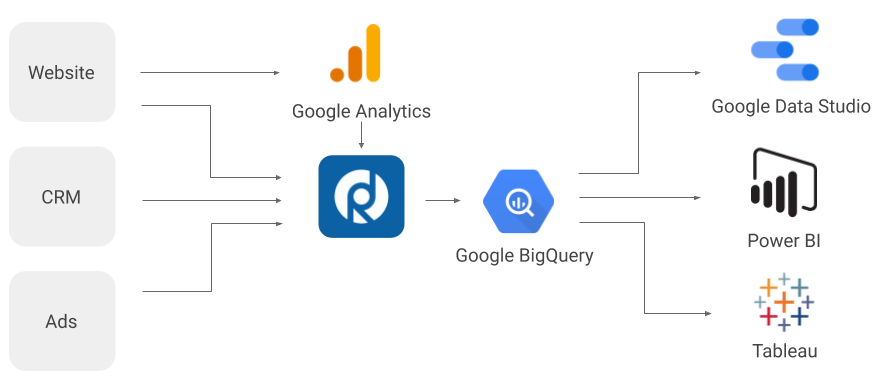 Why choose our data pipeline as a service?
1. Flexibility
Our data pipeline service is completely customizable and no two pipelines are the same. Already have a great tool stack you like and wish to keep? We can work with almost any data-related tool on the market and can give recommendations on adding new ones as your company evolves.
2. Secure & Reliable
All of the mission-critical parts of the data pipeline are living in one of the most reliable cloud computing platforms. Either Google Cloud Platform or Amazon Web Services. This makes sure your systems can scale automatically and you don't have to worry about managing the infrastructure.
3. Fast
When planning and building your data pipeline, our engineers aim for maximum efficiency and speed. Most of the events are available for reporting in minutes, not hours or days. This means your team can make decisions faster, giving you a great competitive advantage.
4. Full Control & Ownership
While data-related tools are getting more powerful, many of them want to remain in power of your data. Many of them don't even allow exports of your raw data. We make sure you own and control all the data in your data lake/warehouse.
5. Expert help and advice
Need help with reporting, analyzing or visualizing the data you've collected? Our team of experts is always ready to help.
Want the best-in-class data pipeline?
Get in touch with us today.
Reflective Data has been our main partner in digital analytics for over two years now. They helped kick-start our efforts in tracking, data analysis, data visualization, and reporting. Reflective Data truly acted as an extension of our team and the level of collaboration was much more akin to a partnership than a client/vendor relationship.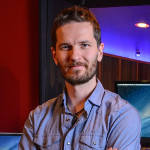 Parker, CMO, New York
Our experience with Reflective Data has been amazing. Our internal resources are always limited and we're now relying on Reflective Data on pretty much all of our digital analytics tasks. They audited and redid our entire enhanced ecommerce setup. These guys tend to overdeliver, we are more than happy. Oh, and the new dashboards completely changed how we work.

Stephanie, Director of Ecommerce, London
Contact us for a quote or additional information
One of our analysts will get back to you in one day