Form analytics is a tool built specifically to measure the usage of web forms. This information will help you understand which fields are creating the most friction and where do people abandon your form.
There are multiple form analytics platforms but here are the features that almost every good one will offer:
General usage

Form impressions (people who saw the form)
Form starters (people who interacted with the form)
Form exits (abandon the form)
Form conversions (successful submits)

Field data

Field name, index on page, type
Times interacted with
Times changed (edit the value)
Average time spent
Exits on field
Based on the data listed above, a form analytics platform will create useful reports giving you insights on which fields are the most problematic, taking longest to fill in, are being edited the most etc.
Some tools will also let you create multi-step forms to help you understand where in the funnel the problems are.
More advanced form analytics platforms have an option that allows you to create custom segments. These segments will show you how different user groups behave differently when it comes to the forms on your website.
Reduce checkout abandonment and boost form conversion rates
Having a nice website is great, but it's close to worthless if you fail at the final step due to poorly handled forms.
Do you know how well are your forms performing? If you don't have a measuring system specifically designed for web forms, you should implement a form analytics platform.
We have seen form analytics to be one of the most useful tools in the process of getting higher conversion rates!
Reflective Data Form Analytics
While there are other form analytics tools around, Reflective Data's is amongst the most advanced ones. It collects hundreds of data points across the user journey and turns that into highly useful reports.
Reflective Data's tool also allows you to specify a time frame or build custom segments based on device, browser, geolocation, custom dimensions and more!
Here's how the front page of form analytics feature looks like: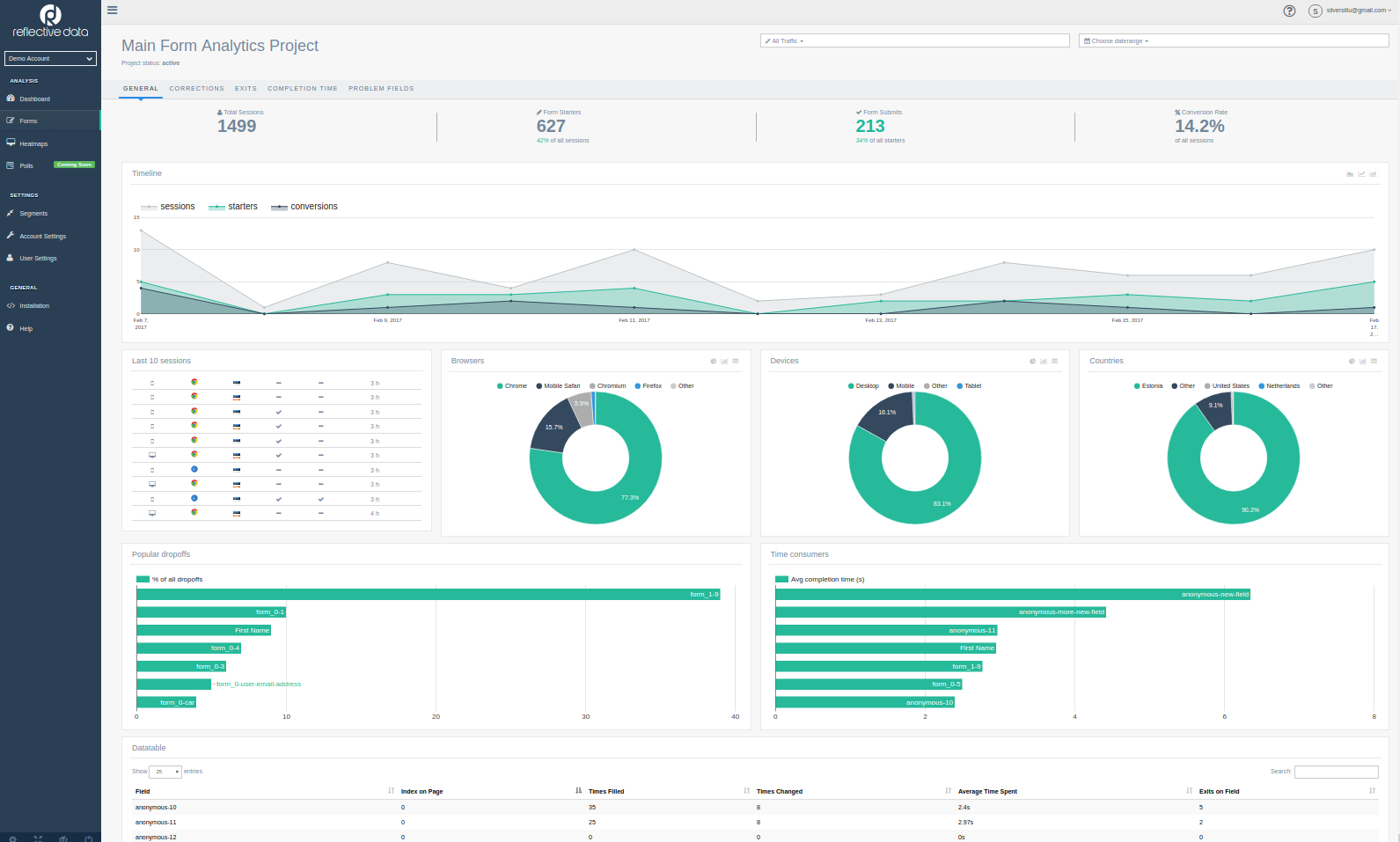 Read more about the features included in the Reflective Data Suite.
Here's a list of form analytics tools that we have tested and can recommend:
Using Google Analytics
If your website doesn't have a lot of forms and traffic is rather low, you can also get some insights of form usage with Google Analytics.
Without going into too much detail, all you have to do is to send events when people interact with a field in a form that you track. A sample event would be something like this:
ga('send', 'event', 'Checkout Form', 'Click', 'First name');
To learn more about event tracking with Google Analytics, take a look at this resource.
---
Last modified: April 27, 2020
---
Want to see more articels like What is Form analytics? Check out all definitions in the Analytics Dictionary.