Long-term metrics like customer lifetime value (LTV) and churn can be so much more insightful and lead to better results when optimized for when compared to the more basic metrics like transactions or revenue. Yet, these metrics are often ignored or at least not involved in the analysis and optimization processes enough. One of the reasons is that it's quite difficult to track them using common analytics and testing tools like Google Analytics and Optimize.
In this article, we are going to explore some of the ways we can leverage Google Analytics to track churn, LTV and other really useful metrics.
Depending on the software you're using, there may be some off-the-shelf solutions that you can install. For example, if you're on Shopify then you can use something like Littledata to send a more accurate LTV value into a custom dimension in Google Analytics. More often than not, though, there is no good solution available or you just need more control over the setup.
One common misconception is that such long-term retention metrics are relevant for a few specific business types only. Yes, metrics like churn are vital for SaaS and subscription products but any company that gets return business should have their long-term KPIs in place. And I don't mean simply tracking them but actually analyzing them and optimizing the business with those metrics in mind.
Acquiring a new customer is anywhere from five to 25 times more expensive than retaining an existing one. It makes sense: you don't have to spend time and resources going out and finding a new client — you just have to keep the one you have happy.
So, if you've been focusing on getting new customers and metrics like revenue or transactions, this article is just for you!
How to measure retention metrics like LTV and churn
The long-term retention metrics most relevant to you depend on the type of business you're working with but the most common ones are customer lifetime value (LTV) and churn. Below is a list of other popular retention KPIs. Think about the ones that would be relevant for your business.
Common Customer Retention Metrics
Customer Churn
Revenue Churn
Existing Customer Growth Rate
Repeat Purchase Ratio
Product Return Rate
Days Sales Outstanding
Net Promoter Score
Time Between Purchases
Loyal Customer Rate
Customer Lifetime Value
Almost all retention metrics require a proper User ID implementation. This means you'd have to identify the user over time and even if they're using multiple devices or browsers. Luckily, in most cases, actions like completing a purchase or signing up for a subscription do involve some kind of authentication.
While it's possible to track retention metrics with Google Analytics alone, in most cases you'd get much better (more accurate) results when combining it with some other technology. Let's explore two of the more popular options.
Sending retention data into Google Analytics
This solution involves sending retention data into a custom dimension or a custom metric in Google Analytics.
The exact workflow depends on the software (CRM, CMS, database etc.) your site uses but the general process would look something like this.
Now, having this data available in Google Analytics, you do whatever you want with it. Here are a few examples.
Using LTV in a Google Analytics custom report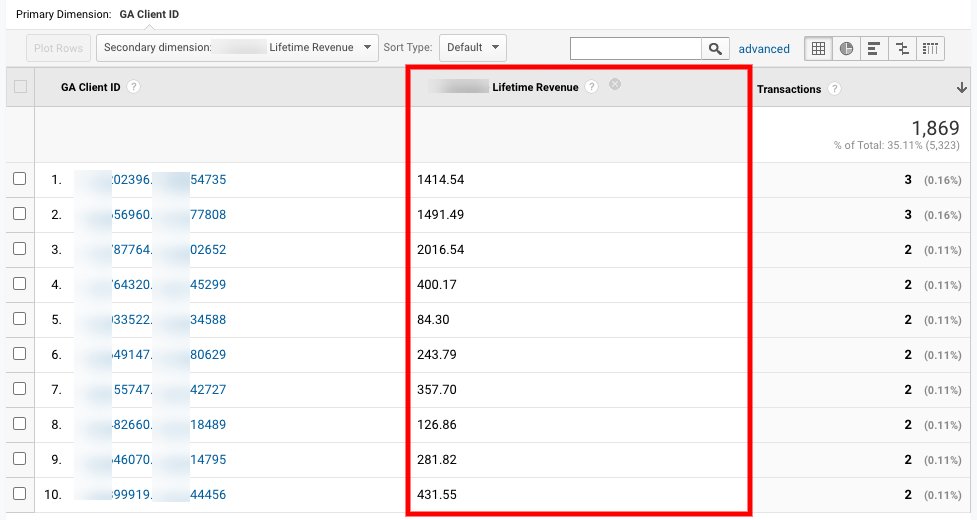 LTV in the Google Analytics user explorer report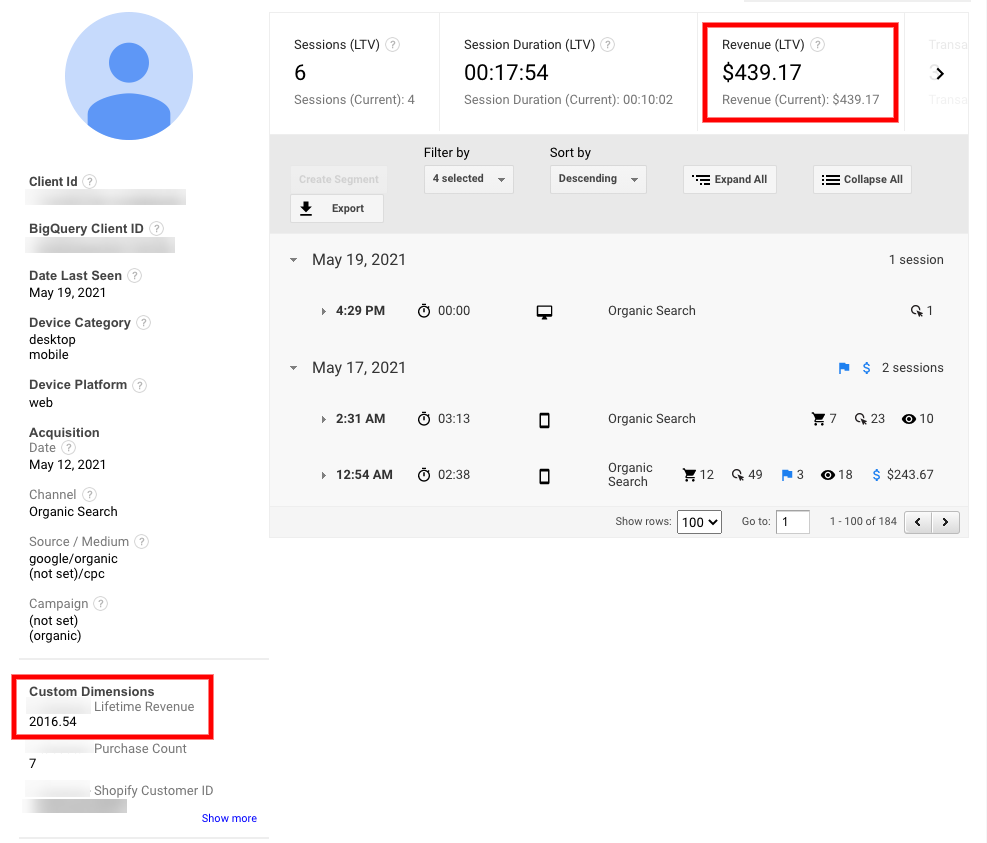 Notice the difference between LTV that Google Analytics is reporting by default ($439) and the value we see in our custom dimension ($2,016). This is because Google Analytics can't keep a track of the user as accurately as your backend system or an e-commerce platform you're using. The same goes with other retention metrics, getting accurate metrics requires some custom work.
The list of possible use cases for this kind of data is unlimited. For example, think about creating custom segments in Google Analytics for customers that are in the top 10% in terms of LTV and see what differentiates them from the rest of the visitors. Besides making more/larger purchases, of course. Things like their traffic source, what pages they landed on, what A/B test variants they saw etc. can be quite insightful.
Talking about ways you can analyze your data and the insights it will give you. Let's take measuring retention metrics to a whole new level by sending data into a data warehouse.
Storing data in a data warehouse
If you're just getting started with retention metrics and you still mostly optimize for generic metrics like leads, total transactions and total revenue, then you'll still be better off with having them in Google Analytics. Compared to not having them at all, that is. If you're serious about analyzing and optimizing for retention and customer lifetime value then you need a data warehouse.
Here's a quick step-by-step guide that will lead you in the right direction.
Send all Google Analytics data into a data warehouse (i.e. BigQuery). Tools using the Reporting API (most of them) can get you started but for true unsampled hit-level data you need something like Parallel Tracking.
Send, pull, push data from other relevant sources into your data warehouse. This should include your database, CRM, CMS, marketing tools, ads platforms, customer support, live chat and every other tool that has data about your customers and their interactions with your brand. Self-service tools like Stitch will get you started but we'd recommend more flexible managed solutions.
Solution for accessing data stored in your data warehouse. You'd need something (could be separate tools) that can handle ad-hoc queries, dashboarding, automated reports, and building data models. Tools like Google Data Studio will get you started. Something like Looker or Tableau would be better. Our recommendation is to go with a managed service that will put together the best set of tools for you and configure the rest as well.
If having retention metrics in Google Analytics enabled you to do all sorts of useful new reports and analysis then your options with the setup above are truly limitless.
Having a proper data warehouse will be your competitive advantage. Not only does it give you an option to get a very good overview of the current status of your business and your customers, but it will also allow for truly optimizing the user experience and user journey. Leading to a better user experience and improved retention metrics. Remember, acquiring a new customer is anywhere from five to 25 times more expensive than retaining an existing one!
One way to describe the usefulness of a data warehouse is by giving you a few sample questions. Questions that would be very difficult to answer without a data warehouse.
Purchases from which traffic channels are most likely to be refunded at some point in the future? Might lead to revising your marketing budget.
Which traffic sources have the highest retention/LTV?
What is the correlation between subscription value ($) and churn rate?
What is the long-term impact of your campaigns or A/B experiments? Do quick wins lead to higher churn or lower LTV?
Does data from different sources add up? Maybe Google Analytics is missing some transactions that are in Shopify or perhaps some of them are duplicates?
Here's an example of the last one on the list above.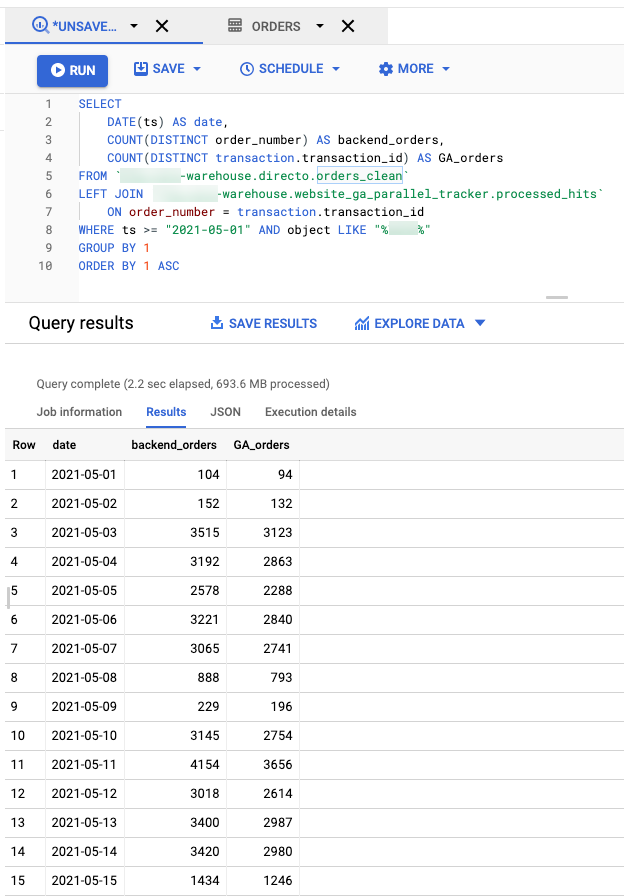 As you can see, Google Analytics is missing a good amount of transactions and this requires further investigation. Definitely something you should include in your Google Analytics dashbaord.
This was just a short list of ideas to get you thinking about what is possible with a proper data warehouse. You can trust me when I say that I've seen companies become truly data-driven after they've implemented a tailor-made data warehouse and started digging for insights they couldn't before.
Working with automatically recurring events
It is important to keep in mind that some retention metrics can change without the user themselves taking any action. You need to make sure that those cases are being tracked and taken into account. Here are a few examples.
Recurring orders/payments
Subscription expirations
Payment method expirations
Orders being changed/cancelled (i.e. due to missing item)
If your data warehouse was configured properly, you should have this data already available. Just make sure to include it in your analysis and reports.
In case you don't have a data warehouse and you're trying to solve this with Google Analytics alone then you need to use the Measurement Protocol. Some of the more common subscription platforms like ReCharge for Shopify have this built-in or solvable with some 3-rd party solutions but quite often custom development is required. In which case, you should think about implementing a data warehouse instead.
Conclusion
If you're in a business where customers are expected to generate value more than once (repeat purchase, subscription etc.) then you need to start focusing on your retention metrics.
Google Analytics can get you started with the basic metrics and limited accuracy. A much better setup would be Google Analytics combined with Parallel Tracking and if you're serious about optimizing for those metrics then you need a custom-built data warehouse where all marketing data is pulled together.
Feel free to post your ideas and questions in the comments below. If you'd like to get some consultation and discuss your ideas further, get in touch with us.