Deprecated
This product has been deprecated and will no longer receive updates.
We recommend looking at alternatives, such as Attribution Heatmaps by RD.
Going to Google Analytics and find the right report to give you the information you need is fun and all but sometimes you need it quick, on the go.
This is where Google Analytics In-Page Analytics comes into play. It is built to give you a really quick overview of the basic metrics of your website, on your website!
Keep in mind that most of the insights still come from actual data-digging in Google Analytics, In-Page Analytics is good for getting a quick overview of a specific page.
Topics covered in this article
What is In-Page Analytics
How to configure In-Page Analytics
How to use In-Page Analytics
What is In-Page Analytics
In-Page Analytics is a Google Chrome extension that lets you see some parts of your Google Analytics data right there on your website, no need to go to Google Analytics.
Here's an example of In-Page Analytics in action on our homepage.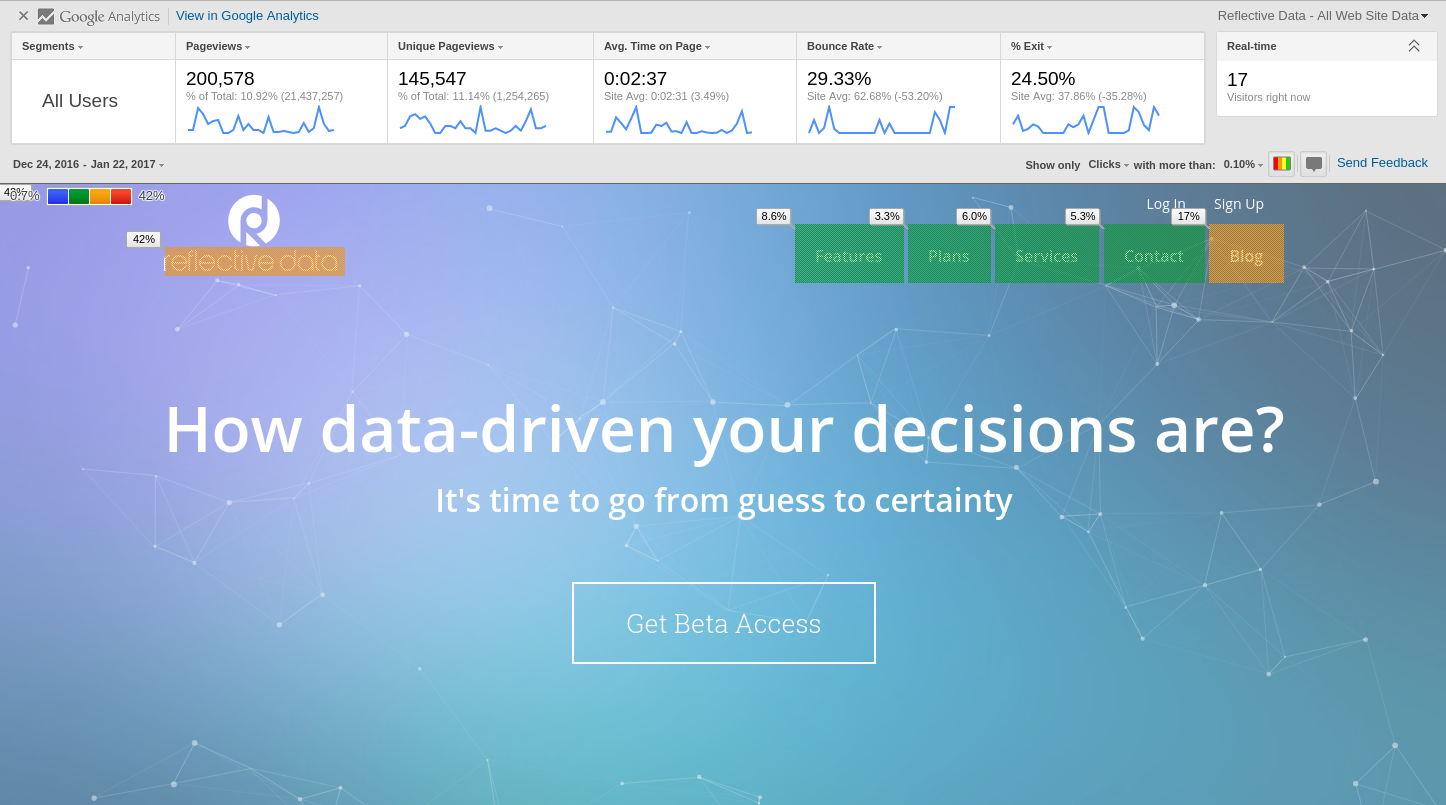 Again, In-Page Analytics is not here to replace actual Google Analytics reports but rather to get some quick insights on how are people using your website.
Here is what kind of information you will see on your website when using In-Page Analytics:
Metrics: Pageviews, Unique Pageviews, Avg. Time on Page, Bounce Rate, % Exit
Number of active visitors, in real time
In-page click analysis (where users click on that page)
See data by segment & change the date range
We find In-Page Analytics super useful for those who don't have enough time to build custom reports in Google Analytics and just need some simple overview of how a specific page is being used.
How to configure In-Page Analytics
As it is quite a simple feature, it is possible to be configured in a few simple steps that will only take about 15 minutes to complete.
Start by installing the Google Chrome extension that you can find here.
When you have successfully installed the extension, head to Google Analytics. In Google Analytics choose Admin and click on Property Settings. In the In-Page Analytics section, turn ON the Enhanced link attribution settings. This will make sure clicks on links are being tracked properly even if there are multiple links linking to the same page.
To make it work properly, a small addition to your Tracking Code is also needed.
All you need is one line between property id definition and page view, eventually something like this:
ga('create', 'UA-XXXXX-Y', 'auto');
ga('require', 'linkid');
ga('send', 'pageview');
Enhanced Link Attribution is not mandatory but we strongly suggest having it turned ON!
Next, go to your website and activate the extension by clicking on the icon in your browser extensions lists.
Keep in mind that you can only see the data for the websites that Google Analytics accounts you have access to!
Now, a results bar should appear at the top of your website, it will look like this:

That's it, now you have In-Page Analytics up and running!
How to use In-Page Analytics
Using In-Page Analytics is rather straight forward and doesn't need many extra skills. Although, it is good if you have at least basic knowledge of how to use Google Analytics.
Main things to look here are:
Date range
You can choose a date range for the results that are being shown at the bottom left of the results panel.
Segment
Choose a segment for the results in this first column from the left, it says Segments.
Metrics
There are five columns that you can customize to show the metrics you care about. Default has been done for you.
Click data
At the bottom right of the panel, you can configure the behavior of the click data that is being shown. You can turn ON/OFF the bubbles and colors, as well as change the click threshold (Areas of the page whose clicks fall below the threshold do not have bubbles.)
View
At the top right of the In-Page Analytics panel, you can change the Google Analytics view which results you will be seeing.
Conclusion
As you most probably already know, Google Analytics is a really powerful tool for digital analytics and there are many things to make it even more powerful. Adding the option to use In-Page analytics is one of them.
In-Page Analytics alone doesn't do much, but it will make it much easier to get an overview of some the most important metrics and also the clicks on the links.
We recommend using In-Page Analytics for quick insights on how a specific page of your website is performing and for getting a basic overview of what a click tracking is.
---
This article is a part of our popular series called Most common Google Analytics issues (in-depth overview)
If you find something missing or misleading, please let us know in the comments.
Feel free to share this valuable information with your friends and colleagues.